SEPTEMBER 18TH
First Day of Sunday School – 10am
We are so excited to meet all our new friends. Sunday school will begin September 18th! Sunday school meets in first floor classroom through the main entrance off of the parking lot. Sunday school consists of prayer, bible reading, arts and crafts and free play. Class runs during  from 10-10:30 during the scripture reading and sermon portion of our 10am service. Then children are welcome to join their families for the Communion portion of our service. All baptized Christians are welcome to receive communion. If you would like to learn more about the Episcopal Church, baptism, or communion, please feel free to reach out anytime.

You can register for Sunday school below. Registering helps us know who to expect, but you can also just come any Sunday. You and your family are always welcome.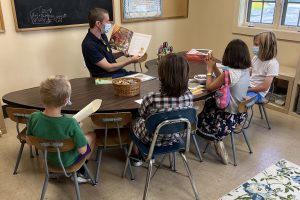 Elizabeth's Vision for Education (EVE) Fundraiser – 11:30am  
On our first day of Sunday school we will also be having a really fun pizza and ice cream fundraiser party after our 10am service. Proceeds will benefit Sunday school and EVE. EVE is a non-profit organization that pays for food, school fees, uniforms, and books for blind children in Kenya. Without EVE many of these children would go hungry and would not be able to go to school. Last year, our ice cream fundraiser supported 11 children! You can read their Appreciation Letters here.

Tickets for the ice cream and pizza party can be purchased at the door on September 18th. Cash or check accepted. Please RSVP by September 14th to Maryanne in the parish office at: info@christchurchtrumbull.org.

Ticket prices: $4 / ticket or $10 / for 3 tickets

To learn more about EVE and to donate to this very meaningful and worthy cause, click here for the Eventbrite link.